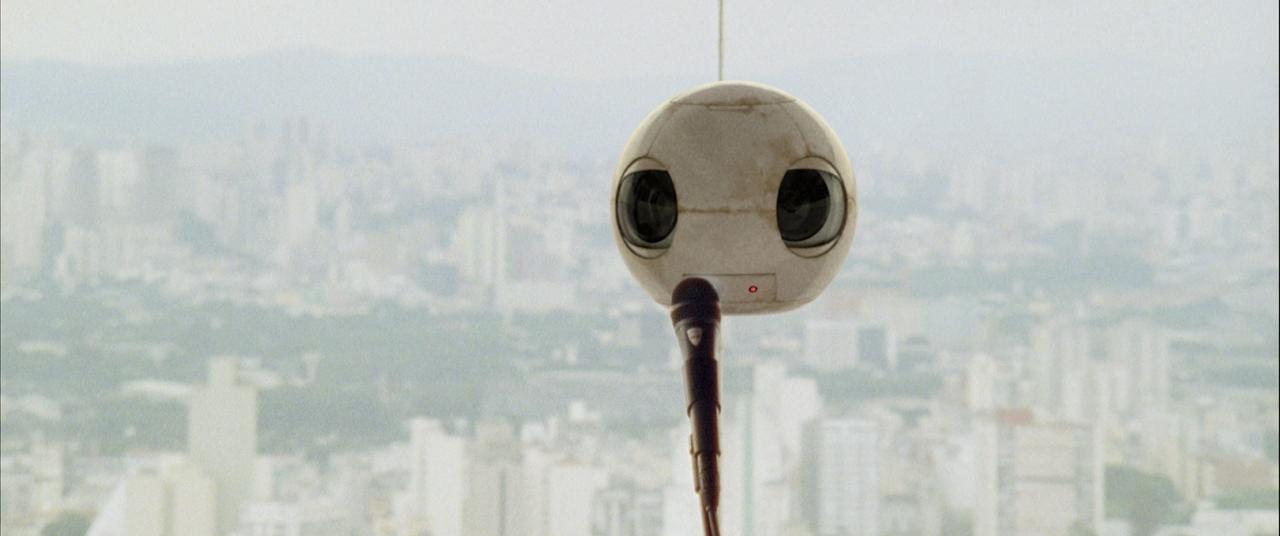 From Gabriel With Love
Have you ever had your mother's reproachful ghost appear to you in the middle of the night in a greenish cloud of toxic flatulence in order to criticize you for trying to push the woman who gave birth to you from your (non-)adult life? And have you by any chance ever participated in a futuristic game set in the Middle Ages where you get to play the role of a poor and impoverished humpback, been attacked by a pack of hungry wolves, suffocated on your dentures because somebody tried to stuff a flailing fish in your mouth, and then spent all night having your lifeless body dragged back and forth until you had no idea where your head was at? And have you ever dreamt of spending a few days as an aboriginal girl deep in the Amazonian jungle who is (don't ask us why) capable of playing a nocturne by Chopin and whose best friend is a flying robotic paperweight with a programmed comedic talent and the voice of a three-year-old child? And finally: Have you ever – pardon our curiosity – felt that, seen from a certain angle, Marie Bonaparte looks like... well… like a giant golden phallus?
No? No problem! The short films of Gabriel Abrantes, the self-styled enfant terrible (i.e., an ill-mannered, extremely loathsome child or misbehaved offspring) of Portuguese film, will more than make up for these fundamental shortcomings. As you watch these films, you will find yourself nowhere and everywhere all at once, in a place where nothing is too crazy, nothing too embarrassing, absurd, or out of bounds, and where everything is absolutely twisted, exaggerated, impossible, and tasteless – like a dimwitted star footballer with a weakness for Pekingese puppies whose yellow Lamborghini (what a coincidence!) has just parked in front of the laboratory of Dr. Lamborghini. But we should warn you. The more time you spend in their roguishly dark embrace, the stronger will be your suspicion that something is not quite right here. And with the growing "index of unease" (a term coined by famous amateur radio operator and collector of Caucasian folk songs Semyon Oparin in one of his brighter moments), certain unavoidable questions will arise.
What – by all that is holy – was the deal with that bizarre commercial interruption in which a completely un-erotic man in tight white underpants slowly emerges from the waves like a bad spoof of Botticelli's Venus? Did I really just watch a scene in which three black sea devils sing an a cappella version of Tommy Hunt's soul hit Human ("O Lord, why did you make me human?") while the camera slowly zooms in on their giant tooth-filled maws? Why doesn't anything here make any sense at all, not even the things that barely made sense just a moment ago? Why does it feel as if, behind all this lack of seriousness, there is lurking something unsettlingly serious, like when you find an alligator dozing next to a bed in a children's room or when you learn that Andy Kaufman was never on the Moon even though that's what people have told you all your life? Where does one end and the next begin? Why are things that are so absolutely out of place said in such a deathly serious tone of voice? And how does this all relate to the Bavarian accent of Werner "My Son, My Son, What Have Ye Done" Herzog?
If you are even slightly taken aback, don't worry: there is nothing to be afraid of. (For the most part, anyway.) The films of Gabriel Abrantes are merely an expression of the centuries-old knowledge that the path up and the path down are one and the same. Or, if you prefer a somewhat more modern way of putting it: spirituality is never far removed from shit-reality. After all, we all know what good old Ludwig Wittgenstein (and, no, I am not talking about the shoemaker) said about the relationship between the serious and non-serious:
"If a head of lettuce could speak, I would finally quit drinking."
Luděk Čertík