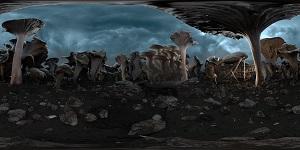 Planet ∞
In a world in ruins, only fungi and mold grow in the middle of gigantic dried insect bodies. When the weather changes, rain begins to irrigate the arid planet and gradually floods it. In the water, an ecosystem springs to life, populated by giant carnivorous tadpoles.

France
2017, 7 min

Director

:

Momoko Seto

Director of photography

:

Elie Leve

Coproduction

:

Arte France, Awkeye

Producer

:

François Martin Saint Léon
Momoko Seto
Momoko Seto (1980) was born in Tokyo, where she attended a French lyceum. After graduation, she studied at the Fine Arts College in Marseille and the Le Fresnoy National Studio of Contemporary Arts. Her first short and documentary films were made for the National Center of Scientific Research. Later, she began to take an interest in hybrid mixtures of genres in which everyday situations were transformed into a unique and poetic world (Planet A, Planet Z) and also created porn films based on the life of underwater creatures. Her films have been screened at numerous international film festivals and art events and have earned several international awards.