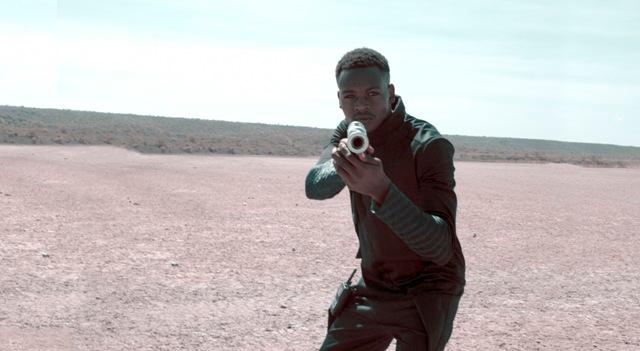 Let This Be A Warning
A group of Africans leave the Earth to create a colony on a distant planet. They respond warily to the arrival of an uninvited guest.

Kenya
2017, 11 min

Director

:

Jim Chuchu

Director of photography

:

Noel Kasyoka

Editor

:

Jim Chuchu, Noel Kasyoka

Screenplay

:

The Nest Collective

Cast

:

Marriane Nungo, Jason Runo, Jesse Mutakiwa, David Mukabi

Art Director

:

Njeri Gitungo

Producer

:

The Nest Collective

Production

:

The Nest Collective
Jim Chuchu
Jim Chuchu is a visual artist, filmmaker, and musician from Nairobi, Kenya. He is also the co-founder and Creative Director of the NEST, a multidisciplinary art space in Nairobi. His first short film, Homecoming, was one of six short fiction films that formed the African Metropolis series and were screened at TIFF, Rotterdam, Locarno, and other festivals. He made his first feature film Stories of Our Lives as part of the ten-member NEST Collective.