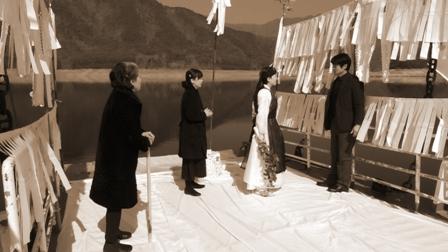 Eyes in the Red Wind
A shaman on an Asian boat channels the soul of a drowned man in order to pacify the dead man's soul, but lust and secrets are revealed that twist the solemn ceremony into a violent tragedy.

South Korea
2017, 12 min

Director

:

Sngmoo Lee

Director of photography

:

Youngsam Jung

Screenplay

:

Sngmoo Lee

Cast

:

Sungmi Kim, Nara Kim, Jaehyun Kim, Jeongmi Lee

Producer

:

Jong Min Kim
Sngmoo Lee
Sngmoo Lee was born in Seoul, South Korea, in 1963. He is the writer and director of the film The Warrior's Way. Today he is a professor at the School of Film, TV & Multimedia at Korea National University of Arts and also the director of the Art & Technology Center (KNUA).