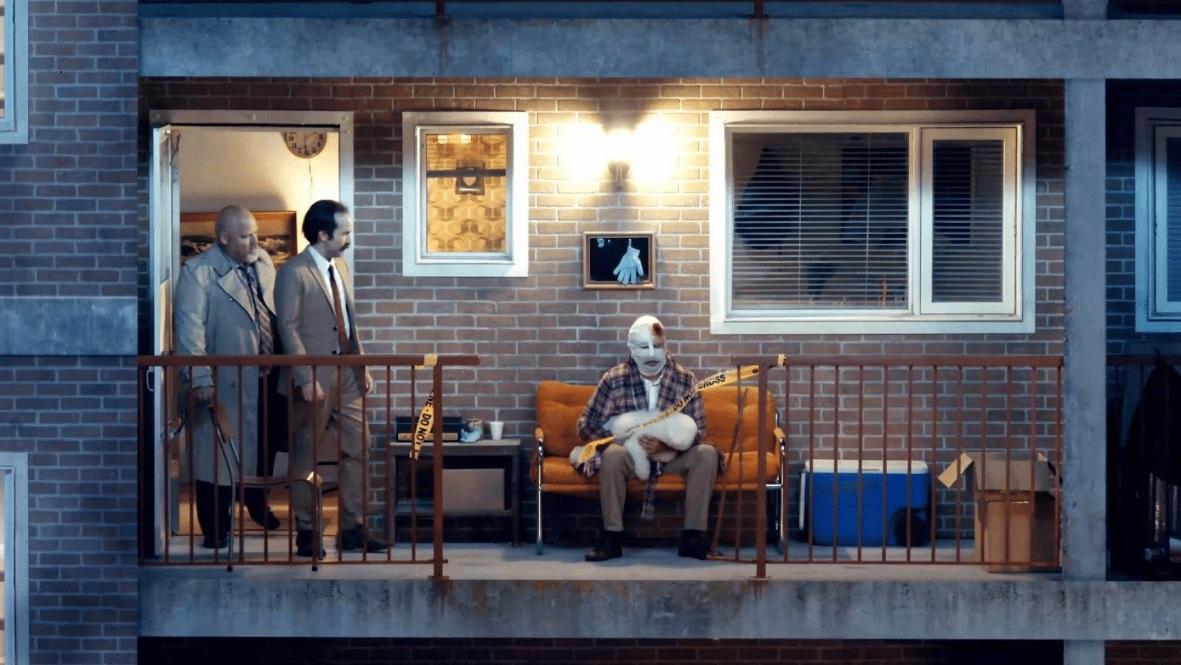 Accidence
Every balcony is a poem, a chant… a muscle! But whoever lives with that extra luxury of a balcony lives on the wrong side of a cross-section, on the busy, narrative-addled side of something like an ant-farm window, a brazen architectural arrangement selling cheap peeks into the naked sideshows of the quotidian – or even the grisly. Step right up! Behold! A ten-storey wall of solid twitching muscle!

Canada
2018, 10 min

Director

:

Guy Maddin, Evan Johnson, Galen Johnson

Director of photography

:

Lianed Marcoleta, Ryan Simmons

Editor

:

Evan Johnson, Galen Johnson

Screenplay

:

Evan Johnson, Galen Johnson, Guy Maddin

Music

:

Ensign Broderick

Cast

:

Norm Asher, William Bond, Xander Boulard, Ensign Broderick

Producer

:

Juliette Hagopian

Production

:

Julijette Inc.
Guy Maddin, Evan Johnson, Galen Johnson
Guy Maddin directed twelve feature-length movies, including The Forbidden Room (2015), My Winnipeg (2007), and The Saddest Music in the World (2003). He has also organized more than seventy performances of his films around the world featuring live elements – orchestra, sound effects, song, and narration. Since 2011, Guy has collaborated with Galen Johnson and Evan Johnson under the banner of their Winnipeg-based filmmaking collective Development Ltd. He currently lectures in film at Harvard University.
Galen Johnson worked for several years in the architecture industry before working as production designer, title designer, and composer on The Forbidden Room (2015), for which he was nominated for a Canadian Screen Award for production design/art direction. He has since gone on to co-direct Bring Me the Head of Tim Horton (2015), the experimental short film website Seances (2016), and Vertigo remake The Green Fog (2017), all with Guy Maddin and Evan Johnson.

Evan Johnson is a writer and filmmaker living in Winnipeg. He studied film and philosophy at the University of Manitoba and worked at Winnipeg's Rug Doctor chemical bottling plant before being discovered there by Guy Maddin. He co-directed his first feature, The Forbidden Room (2015), with Maddin, and has made a handful of his own short films.