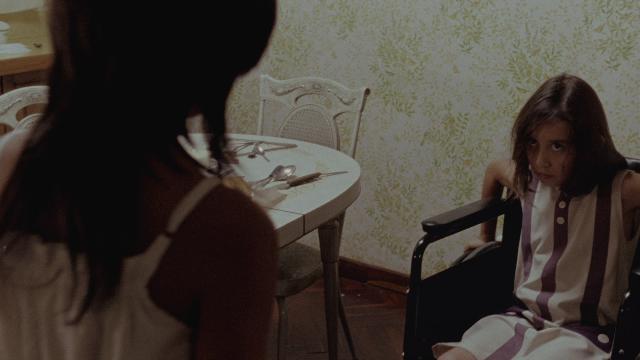 Violet Sunday
Ana is 13. One Sunday morning she wakes up and discovers her mother's wheelchair outside the house door. As she watches her family break down, she will have to confront her odd and disturbing little sister Violeta.

Ecuador
2010, 18 min

Director

:

Ana Cristina Barragán

Director of photography

:

Diego Falconí

Editor

:

Joe Houlberg, Ana Cristina Barragán

Screenplay

:

Ana Cristina Barragán

Music

:

Daniel Mancero

Cast

:

Sara Rekalde, Bruna Carbo

Art Director

:

Joe Houlberg

Producer

:

Ana Cristina Barragán

Production

:

Gato Films
Ana Cristina Barragán
Ana Cristina Barragán is a writer and director from Ecuador. Alba, her first feature, premiered at the International Film Festival of Rotterdam, where it received the Lions Award. The film was part of the Latin American Cinema: The State of Art series of film screenings at the New York MoMA, and was Ecuador's submission to the 2018 Academy Awards. Domingo Violeta is her third short movie; it was released in the Pardi di Domani official competition at the 2011 Locarno Film Festival. She is currently developing her second feature-length film, Octopus Skin, which received Ibermedia funding for development and the Hubert Bals prize for writing, and which will be released in 2019. Ana is collaborating with Gibrán Portela, writer of La Jaula de Oro (screened at KVIFF in 2013), on his new series Adiós a la Tierra.​