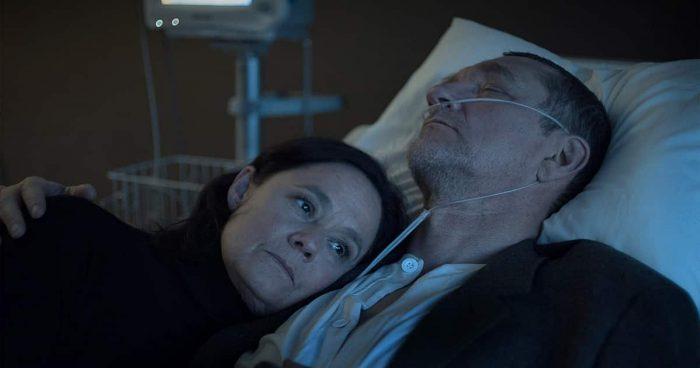 Scenes from the Night
Artists Marianne and Henrik Friborg had a long and happy marriage until a couple of years ago, when Henrik suddenly and painfully broke it off. Now Henrik has a heart condition and is critically ill. The doctors are very concerned. Visiting him at his deathbed, Marianne realizes – against her daughters' wishes – that Henrik's mistress Paula should also be allowed to bid him farewell. On Henrik's last night, Marianne and Paula meet for the first time.

Sweden
2018, 16 min

Director

:

Pernilla August

Director of photography

:

Erik Molberg Hansen

Editor

:

Åsa Mossberg

Screenplay

:

Cilla Naumann

Cast

:

Pernilla August, Ville Virtanen

Coproduction

:

SVT, Film i Väst, Chimney

Producer

:

Anna Anthony

Production

:

Avanti Film
Pernilla August
Pernilla August (1958) is an award-winning Swedish film and theater actress and director who had her breakthrough in 1982 in Bergman's Fanny and Alexander. She has directed critically acclaimed Beyond (2010), which was selected as the Swedish entry for the Best Foreign Language Film at the 84th Academy Awards, and A Serious Game (2016).