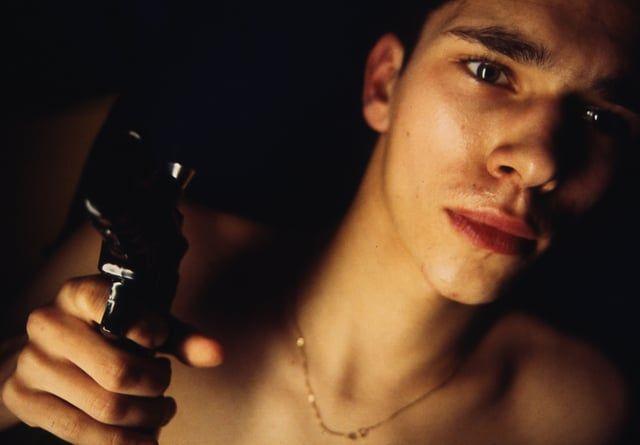 Baby
A mesmerising depiction of adolescent sexual anxiety, BABY will resonate with anyone who remembers being a sex-crazed teen. In this early example of his bold taste in acting roles, Ben Whishaw ('Bright Star', 'I'm Not There', 'Skyfall', 'Hamlet') plays a moody teen recalling a sexually-charged visit to a swimming pool. Muscled divers and naked encounters in the shower catch his eye…but is he attracted to the female bathers too?
United Kingdom
2000, 11 min

Director

:

Andrew Whiston

Director of photography

:

Daniel Landin

Editor

:

Ewa J. Lind

Screenplay

:

W.I.Z.

Music

:

Howie B.

Cast

:

Ben Whishaw, Janet Mitchell, Clive Hayward, Alex Michael

Contacts

:

Andrew Whiston

Art Director

:

Annie Gregson

Producer

:

Steven Elliot, John Storey

Production

:

Oil Factory Films
Andrew Whiston
Andrew Whiston was billed by the British Film Institute as 'one of the greatest ever British music video directors' this summer. He started training under Polish master Krzysztof Kieslowski. He began directing with the genuine cult document 'Weekender', the groundbreaking and controversial film exploring the 90's burgeoning dance and drug culture.
His work is as provocative as it is sensual, and has earned many awards and admirers, including the coveted MVA Icon honour, joining ranks with Anton Corbijn and Jonathan Glazer. Whiston has made films with some of the most challenging and respected artist's today, including actors Michael Fassbender, Rosario Dawson, Ben Whishaw, Stephen Graham, Noel Fielding and artists Alexander McQueen, David Bowie, Marilyn Manson, Massive Attack, Oasis, Chemical Brothers, Kasabian, Arctic Monkeys, Dizzee Rascal, Emeli Sandé, Disclosure, Richard Fearless, Will Young. His theatrical debut 'Tainted Love', won New Venture Theatre's best play award. He's currently developing two features: a contemporary erotic thriller starring Ben Whishaw and a Virtual Reality shamanic drama.