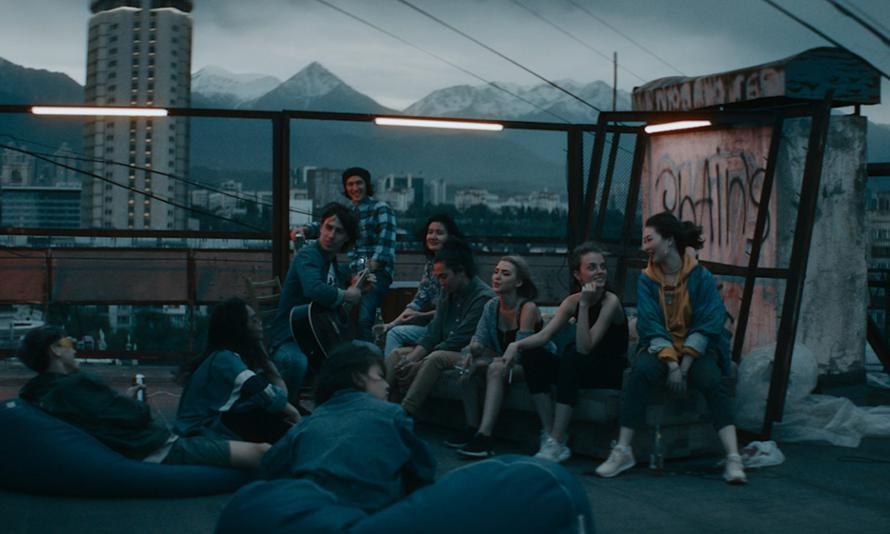 27 women directors in Pragueshorts program!
Directors from all over the world are waiting for your attention. Let´s focus on several interesting women authors whose films you should not miss out.​

​INTERNATIONAL COMPETITION 2: WHAT WE REALLY KNOW
Greek director Jacqueline Lentzou made the film The End of Suffering (A Proposal). Lentza has made four short films, which are regularly awarded at international festivals. Probably the most prestigious is the Cine Leica Discovery Award as part of Cannes Festival Critics' Week 2018 for her film Hector Malot: The Last Day of the Year.
Talented Ashmita Guha Neogi from India competes with her graduate film CatDog, which was officially screened in the Cinefondation section at Cannes 2020 and won the Orona-NEST award at the 68th San Sebastian Film Festival.
INTERNATIONAL COMPETITION 3: TIME TO LEAVE, TIME TO RUN
Zhannat Zykayeva is a screenwriter and director from Kazakhstan. She studied directing at the London Film School and participated in the Sundance Institute and Berlinale Talents programs. Her short films have been screened at a number of international film festivals, and at the Pragueshorts she presents the film History of Civilization.
INTERNATIONAL COMPETITION 4: THIS IS NOT THE END OF THE WORLD YET
A playful film Potted Palm Trees was made by Rosa Friedrich. She studied directing at the Vienna Film Academy under Michael Haneke, where she focused on a playful and non-traditional approach to film language and production. She also studied philosophy, psychology and film studies.
Rikke Gregersen from Norway​ combines the humorous and tragic sides of life in her films and explores human behavior and relationships. This is exactly what you will find in the film The Affected.
Directors Meriem Bennani and Orian Barki live in the USA, their animated series Two Lizards was premiered on Instagram in the Spring 2020 and were very well received by critics. In November 2020, the series became part of the permanent exhibition of the Museum of Modern Art in New York.
INTERNATIONAL COMPETITION 5: HEAVEN, HELL, PARADISE
Elene Naveriani was born in Georgia. She studied monumental painting at the State Academy of Arts in Tbilisi, before focusing on film. In the competition you will find her film Red Ants Bite.
Swedish animator Niki Lindroth von Bahr has won several important awards for her work, as a costume designer she has collaborated with, for example, Fever Ray or David Bowie, and in this year's program she solves Something to Remember.
Phạm Hoàng Minh Thy is an independent filmmaker. Her latest short film Live in Cloud-Cuckoo Land (2020), which she co-directed with Vũ Minh Nghĩa, was shown at the 2020 Venice Film Festival.
INTERNATIONAL COMPETITION 6: NOTHING IS AS IT SEEMS
The filmmaker and artist of Hungarian-Romanian origin Cristina Groșan is competing with a film in a Czech co-production Along Came a Prince, in which she opens the topic of the boy's sexual relationship with a slightly older girl and the reactions of their surroundings.
During her studies Naïla Guiguet collaborated with, for example, Arnaud Desplechin, Catherine Corsini and Thomas Salvador. She is also a DJ and a founding member of the Possession association, which organizes techno evenings for the LGBTQI + community. Dustin (2020), her first short film as a professional, was shot during one such evening.
Colombian screenwriter and director Mariana Saffon is making short films and commercials, her latest short film Between You and Milagros competed in the Orizzonti section at the 77th Venice Film Festival and now at Pragueshorts.
Lucia Kajánková Lucia Kajánková studied philosophy and film studies at Charles University and screenwriting and dramaturgy at FAMU, where she is currently in the Ph.D. program. Her Inversion about the complicated friendship of three adolescent girls is her debut.
Director Apoorva Satish was born and raised in India, recently received her MFA degree from FAMU. Her graduation film Kanya (2020) had its world premiere at the prestigious Busan International Film Festival in South Korea.
Tereza Vejvodová has won several awards at the czech film festivals and in this year´s program you should not miss her film Delimitation.
Work of Terézia Halamová typically deals with the subjects of loneliness and adolescence and often explores female intimacy and physicality.​ That is exactly what you can find in Sing for Us.
NEOZOON is an anonymous collective of female artists founded in 2009 in Berlin and Paris, it creates on the principle of collage and deals with sociological topics related to the issue of speciationism, ie the idea of ​​the superiority of humans over other species, in the anthropocene period. The characters in FragMANts worship consumer goods.
Belgian artists Sarah & Charles playfully and thoughtfully explores subjects and genres such as make-believe, simulacra, stories within stories, cinematic experience, the suspension of disbelief, and music. For example In the hands of Puppets.
Maria Procházková is a Czech director, screenwriter, animator and artist, in 1998 she made a 7-minute film The Mumps with little Jenovéfa Boková in the lead role.
Chloë Wicks, a screenwriter and director living and working in London, is well known from film festivals in Great Britain and abroad. In her film Cubicle she sent a woman to take a pregnancy test in a public toilet cubicle, but she is not alone there.
Josefine Scheffler from East Germany worked not only on short films, but also on several guerrilla projects. While studying directing, she made her third short film Nightfall.
Japanese Sawako Kabuki is the author with a characteristic hand-drawn animation. In Takoyaki Story, she shows takoyaki octopus balls as drugs.
Writer/directors Sophie Mair and Dan Gitsham are partners in life and film, and have been presenting their work at more than 150 film festivals worldwide. In our program you can find The Thing That Ate The Birds.
Swedish director and screenwriter Jo Widerberg solves in Anyway the classic question: Who should say I love you first?
Floria Sigismondi ​is an Italian-Canadian film director and screenwriter, music video director, artist and photographer, she has directed several episodes of The Handmaid's Tale and American Gods and the 12-minute video Leaning Towards Solace.
Shazzula is a Belgian psychedelic experimental musician. In the selection of Full Moon magazine you will find her film Visions Partielles De L´Enfer (part 1).
Micol Roubini studied painting at the Universität der Künste Berlin and at the Brera Fine Arts Academy in Milan. She also received a diploma in audio technology from Milan's Institute for Musical Research (Irmus)​. On 16 mins long video 171219 May Them White Rose With You she collaborated with Davide Maldi.